While it is a painting, Epiphany is typical in its almost interchangeable use of photography and painting: both played their part in the achievement of the eventual, quasi-photographic image.

He is a fine photographer, and his photographic portraits of Kilkenny children (enlarged to an enormous scale) form one strand of his festival exhibitions.

The careful adaptation of existing imagery is another trait, and his references extend back through fine art history as well as history itself ...
"Epiphany I, Adoration of the Magi", 1996, mixed media on canvas
Artist Gottfried Helnwein does not tread lightly with his art - Nazis, mutilation and surgical instruments regularly crop up in his work. Aiden Dunne warns festival-goers what to expect.

In Austrian artist Gottfried Helnwein's Epiphany, Nazi officers in uniform cluster around an Aryan woman, an icy blonde Madonna. She supports a naked infant who, it occurs to you, resembles Adolf Hitler, particularly as it has a precocious moustache. For an Austrian artist to venture into this highly charged terrain, blatantly conflating Christian and Nazi iconography, and doing so with work that had such an ambiguous edge and leaves a lot to our own imaginations, suggests a particularly provocative sensibility.

And, on the score, Helnwein certainly fits the bill, as a lot of people will discover when they encounter his work at first hand during the Kilkenny Arts Festival. In fact, his work, distributed over several venues, will be hard to miss. He makes sure of that.

Incidentally, he does not come to Kilkenny as a stranger. For several years he and his wife Renate have lived in a castle in Co. Tipperary. A technically proficient, immensely versatile artist who seems to think instinctively on a grand scale, he had systematically broken taboos. Some of his earliest public "actions" involved cutting himself with razor blades. These were very much in keeping with a taste for elaborate performance featuring violent, bloody spectacle typical of Herman Nitsch and the notorious Vienna Group.

There is an account of a late 1970s performance by Helnwein in which he drove around in Nazi regalia, his head bandaged and apparently bleeding. Since then he has become much more confrontational in his approach. He anticipated British artist Gillian Wearing by a number of years in wandering the streets with his head and face swathed in bandages, recording the reactions of passers-by.

As will be readily apparent from his Kilkenny exhibitions, scale is an important part of his strategy because, he wants to engage with the widest possible public. To this end, transgression is also central. Many of his images set out expressly to stop us in our tracks, confronting us with scenes of what look alarmingly like grotesque surgical experiments, of horrible torture, of children in distressing situations, of distorted and mutated flesh.

It's not all Grand Guignol though. An extremely impressive work (not that unlike a piece planned for Kilkenny), Selection, made in 1988, consisted of a series of uniform, huge images of children's faces, stretching from Cologne's Ludwig Museum to its cathedral. The subtitle, (Ninth November Night), gave the clue to the event the work marked - the start of the Holocaust on Reichskristallnacht, November 9, 1938.

In presenting people with a series of entirely neutral, if rather beautiful, pictures of innocence and implicitly pointing out that just such innocents were sorted and selected for extermination, Helnwein was resurrecting an aspect of the past that most Germans and, perhaps even more so, Austrians, have preferred to forget.

It certainly annoyed someone to the extent that they came and vandalised it, symbolically cutting the throats of some of the images. Selection shares with Helnwein's more sensational work a desire to prod us into thought about our own attitudes and roles. The real horror, as his work reiterates, is indifference and complacency.

The artist has always assumed the freedom to range across media and disciplines, but in his own terms. The word "theatrical" inevitably comes to mind in relation to his work, and he has worked a great deal in theatre, designing sets and posters (not without controversy). As an illustrator, he has covers for Time and Stern magazines to his credit. He seems equally at home with performance, film, photography and painting.

While it is a painting, Epiphany is typical in its almost interchangeable use of photography and painting: both played their part in the achievement of the eventual, quasi-photographic image.

He is a fine photographer, and his photographic portraits of Kilkenny children (enlarged to an enormous scale) form one strand of his festival exhibitions.

The careful adaptation of existing imagery is another trait, and his references extend back through fine art history as well as history itself - and popular art forms.

Long interested in celebrity, he made a series of harsh, confrontational photographic portraits of such diverse icons as Michael Jackson and William S. Burroughs. One series of paintings features such Disney characters as Mickey Mouse and Donald Duck. But even these benign presences gain a slightly sinister edge when given the Helnwein treatment.

Aiden Dunne, Irish Times 1st August, 2001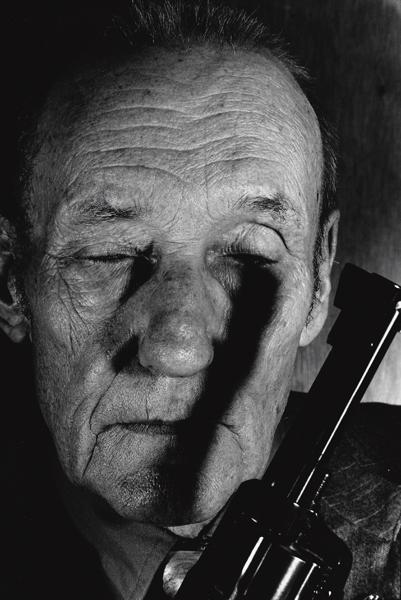 William S. Burroughs